48th President of National Garden Clubs, Inc.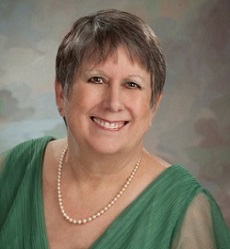 Brenda Moore, of Oak Hill, West Virginia, is honored to serve as the 48th National Garden Clubs, Inc. President, and to promote her theme of "Go Green – Plant America."
Brenda was born in Morgantown, WV and grew up in Fort Washington, MD. She attended West Virginia University and there met her husband, Ron, while obtaining her degree in Family Resources.
While home caring for their children, Rebekah and Andy, volunteerism became an important way to connect with others and give back to organizations she cared about. As her children got older, she taught in the Fayette County, WV Public Schools and later worked for Fayette County, WV Public Library. Brenda is a gammy to seven perfect grandsons.  
Although the daughter of an agriculture engineer and married to a forester, Brenda's love for all things outdoors began when she first joined a garden club in 1994. Never did she dream, by accepting an invitation to join a garden club, she would become a club president, a district director, the West Virginia Garden Club President and now the National Garden Clubs' President.
Brenda has a special passion for unusual and native plants. The Moore's have a certified West Virginia Wild Yard, a National Wildlife Federation Certified Yard, and a Certified Monarch Waystation. Being a good steward of our Earth is very important to her. As a four-star member becoming a five-star member is one of her goals. The four NGC Youth books were authored or co-authored by her.
   
She looks forward to meeting, communicating with, and working with National Garden Clubs' members and potential members to make our organization an even better one. "No man will make a great leader who wants to do it all himself, or to get all the credit for doing it." —Andrew Carnegie