47th President of National Garden Clubs, Inc.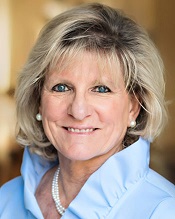 Mary Warshauer, President of National Garden Clubs, Inc., is a lifelong gardening and floral design enthusiast who is dedicated to promoting initiatives focusing on civic and environmental education.  Through her volunteerism at NGC, Mary aspires to spread awareness throughout schools, groups, clubs, and communities regarding the need to educate future gardeners and help the next generation with tools to develop creative ways to sustain our world. 
Born in Patuxent River, Maryland to a military family, Mary quickly learned to adapt to new communities, cultures, and climates. As a perpetual "new kid in school," local organizations became a bedrock of support, instilling in Mary a deep understanding of community service-oriented projects and the impacts they can have.
This passion led Mary to join the Garden Club of Fair Haven, NJ in 1987, where she participated in many community projects, including earning her flower show judge accreditation. Mary has served garden club at the district, state and regional levels becoming President of the Garden Club of New Jersey, Inc., from 2009 to 2011 and Central Atlantic Regional Director in 2013-2015.  Joining the NGC Board of Directors in 2007 as Water Quality & Conservation Chair, Mary has held a variety of positions, including Blue Star Memorial Highway Chair, and culminating in her most recent position as First Vice President.
When not volunteering for NGC, Mary has served on the Rutgers Gardens Advisory Board and been a member of the Pennsylvania Horticulture Society and the American Horticulture Society.  Among the local philanthropic organizations she supports are Children's Psychiatric Center Mental Health Services, Visiting Nurses Association and Clean Ocean Action.
Mary holds a Bachelor of Science in Child Development Elementary Education from Florida State University.  Mary and her husband, Jim, have three adult children and currently reside in Rumson, New Jersey.      
---
---
Club Yearbook Information & Dates:
Mary Warshauer, President
Rumson, NJ
Email: mwarshauer@gardenclub.org
Theme: "Plant America- Play Outdoors
2021 Virtual Fall Board Meeting: September 22-24 
2022 Convention: May 17-20, 2022 in Orlando, Florida
2022 Fall Board Meeting: September 19-22, 2022 in Saint Louis, Missouri
2023 Convention: May 2-5, 2023 in White Sulphur Springs, West Virginia