46th President of National Garden Clubs, Inc.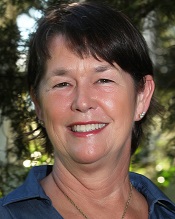 Gay L. Austin, President of National Garden Clubs, Inc., is a native of Liberty, Mississippi, now living nearby in the City of McComb. As a youth living in rural Mississippi, she helped with her mother's flower and vegetable gardens. Currently, she continues to grow and harvest fruits and vegetables for family use, specializing in making jams and jellies to share with friends.
Gay studied art at Newcomb College in New Orleans, Louisiana, and later obtained her nursing degree. In her professional career, she worked as an Emergency Room RN, then as the Office Manager of Southwest Mississippi Ear, Nose and Throat Clinic.
Gay joined the McComb Garden Club in 1986, and she continues to participate as an active member. She has served as chairman and officer of most positions in this club, as well as Club President in 1996-1997. Gay also is a member of the Flower Lovers Garden Club in McComb and the Natchez Garden Club, located in Natchez, Mississippi.
On the district, state and regional levels of garden clubs, she served in many positions, including Chairman of the 2003 NGC Annual Convention, State Flower Show Chairman, State Awards Chairman and President of the MS Flower Show Judges' Council. She was editor of the state garden club publication, Miss Gardener from 2005 – 2009. She also served in many elected office positions, before serving as the State President of The Garden Clubs of Mississippi, Inc. from 2009 – 2011.
Gay is a National Garden Clubs Master Flower Show Judge and NGC Flower Show Schools Horticulture Instructor. She is currently on the Executive Committee of both Keep Mississippi Beautiful and the Mississippi Heritage Trust. Since 2006, she has been an active member of the Pike County Master Gardeners, including serving as President. Gay has been a member of the Amite River Chapter of the Daughters of the American Revolution since 1975.
In addition to Gay's interest in garden clubs, she is passionate about animal rescue. In her spare time, she serves on the board of directors of PALS Rescue, Inc., a local no-kill animal shelter, of which she is past president and past chairman of the shelter building committee in 2010. She is an accomplished multimedia artist with works in many private and corporate collections, many of which she donated through the years for fundraising events. She has been active in many local groups, including the Pike County Chamber of Commerce, McComb Junior Auxiliary and Pike County Arts Council, serving as board member and president of each.
She and her husband, Will, live in a rural part of Pike County, Mississippi. They have five children with spouses and ten grandchildren, along with nine dogs and two cats, all of which bring great joy to their lives.
Many years ago, an NGC officer spoke at a garden club meeting. Her words "the service you give to others is the legacy you leave behind," have inspired Gay and strengthened her commitment to her family, her community, her state, and National Garden Clubs.